Each of Waveform's music practice studios are different in terms of size and acoustics. All have QSC K12 PA cabinets, individual a/c, floor-to-ceiling bass traps, custom absorption/reflection, 2 mic stands, stools, WiFi, and 1/8in headphone adapters for the Mackie ProFX8 mixers. Also, the sound proofing is pretty great - you won't be disturbed by adjacent rooms!
Drummers have an equipped drum room (different than a full band rehearsal studio) to practice in as well!
For full band studios, as options you can add a "core" drum kit, a cymbal/pedal package, or a vocal mic/cable package (each for $5 per rehearsal).
Rehearsals on weeknights are scheduled by block. There is a 6-8pm block, an 8-11pm block, or 6-11pm discounted block. There are no blocks for the drum room or any studio on weekends.
Will accommodate 5 people with equipment nicely. Designed for a drop in the mid frequencies and to allow for horns/vox sit on top. The dimensions are 21x16x11. As an option, it comes with a birch/maple/birch Ludwig Epic drum kit. $15 per hour.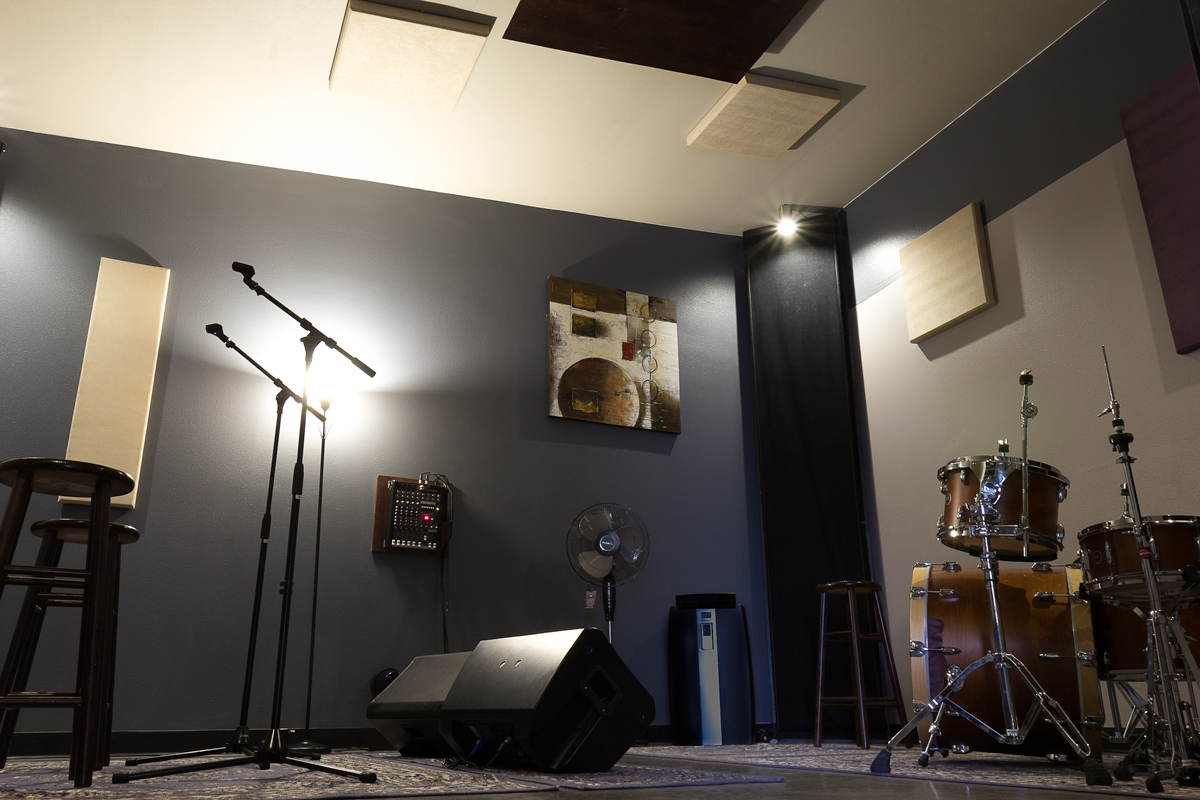 Will accomodate 4 people with equipment nicely. No parallel surfaces naturally provides compression for a thick punchy sound. The dimensions are 18x16x11. As an option, it comes with a maple/poplar Gretsch Brooklyn drum kit. $15 per hour.
Will accommodate 3 people with equipment nicely. Based on the Fibonacci sequence, it aims for a flat eq response and is treated for a good amount of ambiance. The dimensions are 10x16x11. It is a fantastic tracking room. As an option, it comes with an all birch DW PDP Concept drum kit. $13 per hour.
For drummers only, the drum room comes with a 5pc kit and everything you need to practice solo (minus a crash cymbal). Be sure to check out the online scheduler for package deals! $9/hour (less for multiple hours).
Weeknight Block Discounts

Whenever you book the whole night from 6-11pm - only pay for 4 hours - 20% discount so $15/hr becomes $12!
Weekend Discounts
Check the online scheduler for Friday night and weekend discounts!
Drum Room Packages

The more hours you practice, the cheaper the hourly rate. Also, we have package deals in the online scheduler!
Band Practice Rooms Gallery
Drum Kits Gallery
(optional add-on to a studio reservation for $5 a rehearsal - cymbal and pedal pack is an additional $5 per rehearsal)
*all kits come with three cymbal stands, throne, snare stand, and hihat stand - bands typically get the core kit and the drummer brings in their kick pedal and cymbals.
ADDRESS/DIRECTIONS
8204 N Lamar Blvd. Austin, TX 78753
Building A
Driving: From 183, go north approx. 1/4 mile and turn left into Waveform's parking lot which is directly across from Texaco.
Helpful Notes:
*The regular full band rehearsal studios don't come with microphones or mic cables, but you can add them on as an option (they do come with 2 mic stands standard).

*The drum room is the only studio where drums come with the studio reservation (but remember to bring a crash cymbal, sticks, and ear protection).

*If you need to cancel a reservation outside of 24 hours prior to your appointment time, you can do so via the link on your confirmation email or in the scheduler…if you need to cancel inside of 24 hours prior to your appointment time, there is no credit or refund given as that spot on the reservation calendar is effectively consumed.
*Due to very low demand for it, we do not have any amps or other gear to rent for your session other than drums/cymbals/microphones
*If you have a question, check out our FAQ page or feel free to email us using the contact box below.